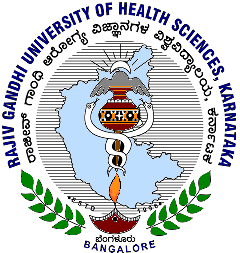 Rajiv Gandhi University of Health Sciences
4th T Block, Jayanagar, Bangalore – 560041.
WEB SITE OF UNIVERSITY : www.rguhs.ac.in
Chancellor
His Excellency Honorable Sri. VAJUBHAI RUDABHAI VALA
Governor of Karnataka & Chancellor
Pro-chancellor
Sri E TUKARAM
Hon'ble Minister for Medical Education,
Government of Karnataka
Vice-chancellor
Dr. S SACCHIDANAND,
Hon'ble Vice Chancellor
Ph: +91-80-26951926 Fax +91-80-26961927
Registrar
Shri SHIVANAND KAPASHI
Hon'ble Registrar
Ph: +91-80-25961928 Fax: + 91-80-26961929
The Emblem of the Rajiv Gandhi University of Health Sciences is a symbolic expression of the confluence of both Eastern and Western Health Sciences. A central wand with entwined snakes symbolizes Greek and Roman Gods of Health calledHermis and Mercury s adapted as symbol of modern medical science. The pot above depicts AmruthaKalasham of Dhanvanthri, the father of all Health Sciences. The wing above it depicts Human Soul called Hamsa (Swan) in Indian Philosophy. The rising Sun at the top symbolizes Olive brances, which is an expression of Peace, Love andHarmony. In Hindu Philosophy it depicts the Vanaspathi (also called as Oushadi) held in the hands of Dhanvanthri, which are the source of all Medicines. The lamp depicts human energy (Kundalini). The script 'DevahithamYadayahu" inside the lamp is taken from UpanishathShathiManthram( RhadramKarnebhiShrunuyanadev…), which says" MAY WE LIVE THE FULL SPAN OF OUR LIVES ALLOTTED BY GOD IN PERFECT HEALTH" which is the motto of the Rajiv Gandhi University of Health Sciences.
RGUHS offers you a world of opportunities to learn from faculty who are leaders in their fields, to connect with students from all over the world, to embrace a rich cultural life setin one of our nation's most happening state-Karnataka and to build the foundation for yourfuture. It's all here, waiting for you, at RGUHS
RGUHS a premier health University in India was started in the year 1996 by theGovernment of Karnataka through an enactment RGUHS Act 1994 to include all the existing health science institutes which were earlier affiliated to conventionaluniversities with a purpose of ensuring proper and systematic instruction, teaching, training and research in modern and Indian systems of medicine.
The phenomenal increase in the number of institutions and students admitted to variouscourses of medical and allied health sciences warranted the need to regulate, monitorand standardize the curricula as well as the evaluation system. The product of medicaland health science professional education was to meet the societal needs for betterhealth care hence RGUHS had the vision to bring in uniformity in the standards ofteaching and have a common curriculum for the various courses offered in differentcolleges across Karnataka.
RGUHS is considered one of the top universities offering the best medical education in India with initiatives to make its syllabi for different courses of world class quality taking it to the forefront of Medical education in India.
Based on the ever-changing scenario and also on the needs of the society it has beenrestructuring its programs and also starting new ones so that quality healthcare reachesthe nooks and corners of the country.
As we enter another year, there ¡s no doubt, that, there ¡s still much to be achieved. On the part of the UniversityManagement, we will continue to provide a conductive atmosphere forteaching and/earning.
I wish  you a prosperous and fruitful future.
Dr. SRIPRAKASH K. S
Vice-Chancellor